GALLERIA VITTORIO EMANUELE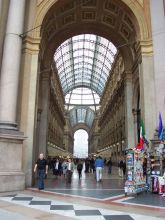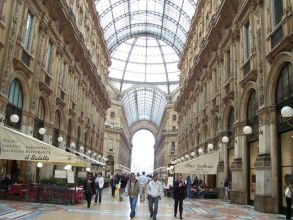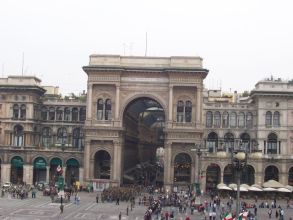 Some pictures of the Galleria: the fourth one shows a view from Piazza del Duomo
It's the "Salon" of Milan, a centre of cultural and mundane activities. It was designed by the architect Giuseppe Marangoni (who died there in 1877) and built between 1865 and 1877. It is shaped as a cross, with an octagon of iron and glass in the middle. There is a particular atmosphere in this old place, full of shops, antique and characteristic restaurants, cafes and bookshops.
Look at the floor; in the centre of the Galleria there is a taurus figure: go and whirl on it for three times, you'll get lucky!
---
VIA MONTENAPOLEONE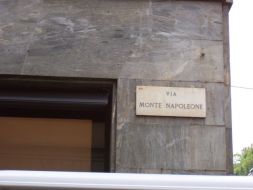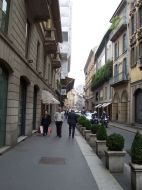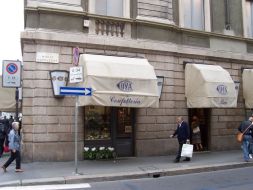 Pictures of Via Montenapoleone; at the right the Caffè Cova
Via Montenapoleone is the most important center of high fashion and shopping of Milan. It's is part, with Via della Spiga, Via Sant'Andrea and Via Pietro Verri, of the fashion four-sided, where you can find the most famous and well-known names of mondial fashion.

Before going for shopping, we suggest you to take a cafè or a drink in a caratheristic old cafè, the COVA, founded in 1823.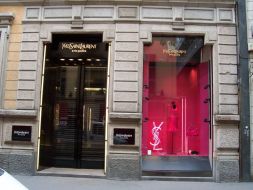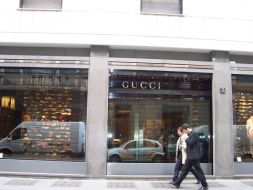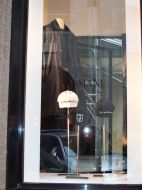 Yves Saint Laurent, Gucci and Armani shops
---
LA SCALA
The "Teatro alla Scala" was built between 1776 and 1778 by Giuseppe Piermarini, a famous neoclassical architect , under the heel of Maria Theresa of Austria; it replaced the Regio Teatro Ducale, which was burn down in 1776.
Its name comes from the church of Santa Maria della Scala, which original site was there. It is the home of the music and opera of Milan.
You can reach the theatre simply going right through the "Galleria"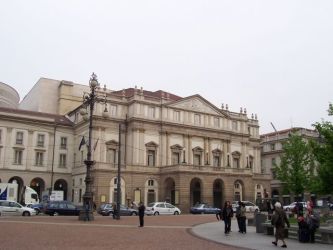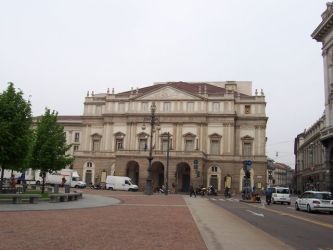 An external view of the "Teatro alla Scala"