DUOMO
The most important church of Milan has been commissioned in 1387 by Gian Galeazzo Visconti, and dedicated to Santa Maria Nascente. It is built on the rests of the S. Tecla' , one of the first churches in Milan, where the first Chiristians were baptised. It's a magnific representative of Gothic architectural style, and it's all made by Candoglia's marble, coming from the Milan's duke properties.
There are more than 3400 statues, and its higher pinnacle has put on the Virgin Mary statue, made out of copper covered with gold leaves, called Madonnina by Milan people. Construction was completed only in 1960, when the last bronze door was put into place, in the front side. Now the conservation of this masterpiece is the task of the Veneranda Fabbrica del Duomo society, and it's rare to see the cathedral without any sign of intervention.
In these pictures the Duomo in a realtime view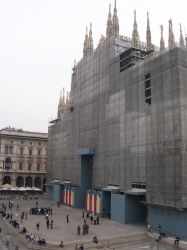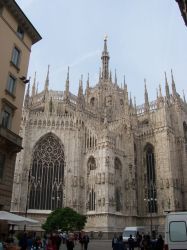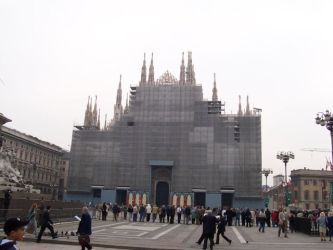 The Cathedral is open from 7.00 until 19.00. Admission free.
Being in a church, you must wear suitable clothes (not shorts, top etc). It's not allowed to take pictures inside the building; remember to switch off, or at least put in "silence" mode, your mobile phone.
---
We recommend a visit to the top of the Duomo: you'll see a fantastic panorama of Milan. If you're lucky and it's a sunny and clear day, your sight could reach even the mountains located in the northside, called Resegone and Grigna!
A view in a sunny day from the Duomo's roof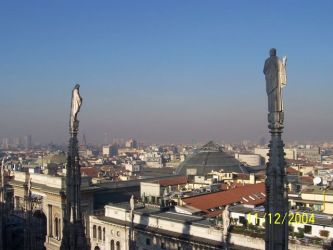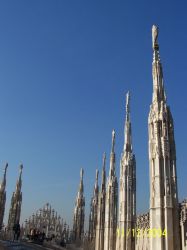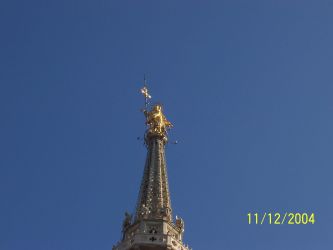 There are two ways to go up: you can use the lift (open from 9 am to 17 pm in winter and 18 pm in summer, the ticket costs 6 euro) or the steps (open from 9 am to 17 pm in winter and 18 pm in summer, the ticket costs 4 euro, the family ticket -2 adults and two children- costs 8 euro ).